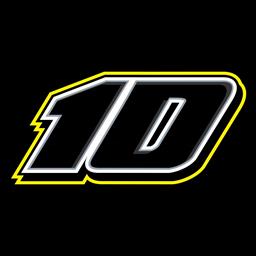 3/3/2022
---
Joiner to Contest Henderson Motorsports Entry in 20-25 Events
Popular Milton, Fla., dirt racer Joseph Joiner will split his time between two successful teams while hunting the front in 2022.
Laurel, Miss.'s Leon Henderson announced Monday that the 28-year-old Joiner, whose racing career is documented on his family-produced Hunt the Front videos on YouTube and Patreon, will pilot a Henderson Motorsports Longhorn Chassis in 25-30 events this season. Joiner, who will also continue fielding his family-owned Capital Race Car, reached an agreement with the 52-year-old Henderson last week.
Joiner, one of five drivers to pilot one of Henderson's cars last season — joining Henderson, David Breazeale, Randy Weaver and Ryan Crane — said the relationship he's had with Henderson over the last few years helped bring the two together this season.
"We bought probably three of four race cars from them over the past years and we've kinda just stayed in touch," Joiner said. "We kinda were supposed to do some racing with him back in, I think, 2019 and it was about to be in motion and everything kind of fell apart and didn't really materialize."
Joiner's cameo appearance in a Henderson-backed ride at Hattiesburg (Miss.) Speedway on July 23, 2021 netted a fourth-place finish in a Mississippi State Championship Challenge Series event.
"We just stayed in touch the whole time and then that deal with Hattiesburg last year (Henderson's) crew chief Wayne (Baker) and me, we talked a little bit. He'd texted me asking if I was doing anything and I wasn't, so I met them over there at the racetrack and run the car that one time," Joiner added. "After that it was like, 'Hey, next year let's plan on trying to do something.'
"(We) didn't really know what we were gonna do or how it was gonna work or anything like that, but yeah we kind of both knew we liked racing with each other. So here over the past couple weeks we've been talking a good bit trying to figure out how we can make it work and what works for everybody and, you know, (we) just kind of put something together and we've pretty much got it finalized now and we're gonna do a little bit of racing."
Henderson said he's pleased to get his latest collaboration rolling.
"We've known each other since he started racing," Henderson said. "We sold him a few cars down the road. We've been trying to get a deal worked out for two or three years, maybe four years now. I'm excited that we finally did."
May's Show-Me 100 at Lucas Oil Speedway in Wheatland, Mo., and July's Prairie Dirt Classic at Fairbury (Ill.) Speedway — both $50,000-to-win events — are among the major events Joiner plans to drive for Henderson, while Joiner will also enter several lucrative events in his own car.
"We still plan on running the big shows," Joiner said. "The shows we still plan on running in our stuff would be the Bristol Dirt Nationals, both big events at Eldora (Speedway, including the Million and World 100) a couple of the XR Series races at All-Tech and some other regional shows as well … kinda splitting our time between the two operations."
Joiner noted that when he drives Henderson's equipment, which will continue to be maintained at Henderson's shop in Mississippi, he'll show up at the track with his firesuit and helmet, and of course, his full array of cameras and video equipment that his family uses to record Hunt the Front.
Among Joiner's four victories last season were Southern All Stars and Mississippi State Championship Challenge victories at Tri-County Speedway in Pollard, Ala.; the $10,000-to-win Crate Racin' USA Harvey Jones Memorial at All-Tech Raceway; and a career-richest $50,000 triumph in the Super Bee 100, a Crate Late Model race in Chatham, La.
Henderson, a longtime sponsor of Hall of Fame driver Billy Moyer of Batesville, Ark., has fielded cars for a number of drivers for more than a decade. Spencer Hughes, Michael Arnold and Scott Creel are among the drivers to take a turn since 2010. None though have had more success than Breazeale, the Four Corners, Miss., driver who is a three-time MSCCS champion, 2019 Southern All Star champion and 2018 World of Outlaws Case Late Model Series Rookie of the Year.
Breazeale scored 10 victories and 24 top-five finishes in 2010 for Henderson and five victories — including the $15,000-to-win season-ending Coors Light Fall Classic at Whynot Motorsports Park in Meridian, Miss. — in 2016. In all, Breazeale won 21 races with Henderson Motorsports from 2010 through '21.
With Joiner set to field Henderson's car in 2022, the team owner said he'll likely hang up his own helmet.
"I'm probably going to quit," he said. "Driving is a young man's game. I think I'm done. I'm going to watch the sidelines."
---
Article Credit: Robert Holman | DirtonDirt.com
Back to News